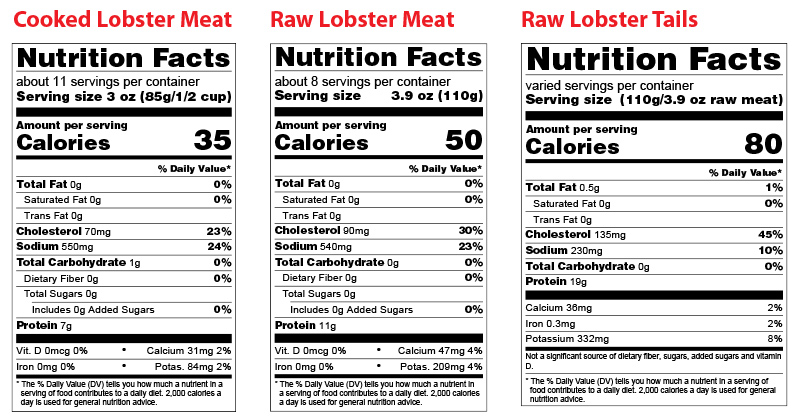 Lobster – natural protein
Lobster is a healthy source of protein, and a good source of vitamins and minerals.
It is high in vitamin B12, an excellent source of copper and selenium and a good source of phosphorus.
Harvested in their wild natural environment; Lobster is low in fat, virtually free of saturated fat and carbohydrates.
It is easy to see why Lobster is a great choice for any healthy diet.
HPP Lobster
(High Pressure Processing) Live Lobsters are placed in a "COLD" High pressure chamber. This process causes the lobster to contract and "detaches the raw meat from the shell". This allows for a quick, clean, & complete release of lobster meat from the shell, resulting in premium unrivalled Lobster products.
The process uses no heat; the Lobster remains completely "Raw"; ensuring peak freshness for future flavor infusions. HPP Lobster has improved moisture retention, improved texture and offers best presentation. HPP products can be further processed based on customer needs, Blanched and Cooked.
Choice Exceptional Quality Lobster with a limitless range of uses.
100% Natural – No Additives – No Chemicals
Raw Lobster
Fresh Wild-Caught Lobster that has not undergone any pre-cooking during processing. Cook & Serve. Raw is the most versatile format; allowing you to create your own signature dish with fresh flash frozen RAW lobster, add your own flavor profile, and entice the senses. Giving you full control of your own dishes.
Cooked Lobster
Fully cooked Lobster meat that is "Ready to Eat. Thaw & Serve" Lobster meat is cooked in shell using optimal temperature and specific cooking time to ensure the perfect texture, authentic flavors and batch consistency.
Blanched Lobster
Lobster Meat & Tails. Simplified Cook & Serve Lobster meat is partially cooked during the blanching process, diminishing finished cooking time, while maintaining freshness.
What is Glazing?
Fresh Frozen Raw Lobster Tails – frozen at peak quality to ensure ultimate freshness and texture are dipped in Water to create a thin layer of ice to protect your product from freezer burn. Glazing is applied to Raw Shelled Lobster products.
What is Deveining?
Removal of the lobster's digestive tract from the tail meat.  This is a step taken prior to grading and packing the tail in production.
Brine vs Dry Packs
Brine helps preserve the texture and moisture in the shucked lobster meat; keeping the meat soft.
Brine will prevent crystals and freezer burn.
Brine will enhance the flavor of the lobster.
Our customers can select to have a dry pack without the addition of brine.
"Or" select the amount of brine added to each bag, to suit their desired custom pack.
  © 2017 Shediac Lobster Shop – All Rights Reserved